Corporate sponsorship has long provided a reliable advertising and business development vehicle for companies looking to reach out to a target audience of sports fans. Businesses often see outsized returns when they attach a logo or brand to a formula 500 car, a skateboard, a well-placed shoe or hat, a well-known face delivering a message on TV, even a tattoo on the arm of a rising star.
But what about eSports? Does the eSports category represent a sponsorship space worth pursuing? Maybe a few years ago it was difficult to see much ROI on eSports sponsorship, but the landscape is changing fast.
What are eSports?
Multiplayer online gaming has now gone pro, and the eSports space includes all revenue opportunities tied to spectator-focused video games and game tournaments. According to Nathan Lindberg, the Senior Director of Global Sponsorships at Twitch, this type of event is "no longer a passive marketplace" and now represents a broad swath of open and unclaimed real estate available for brand access. A land grab is underway, so if you're hoping to capture the attention of an eSports audience, now is the time to make a move.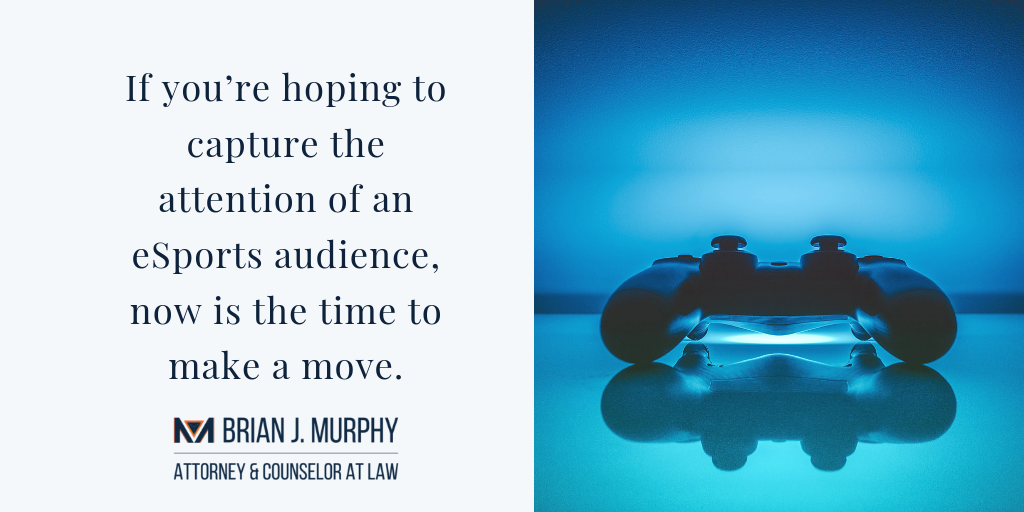 Does my product fit the market?
eSports brand sponsorships can be divided into "endemic" and non-endemic categories, with the former offering products and services directly integrated into eSports activities, such as gaming systems and equipment. Intel and Logitech are prime examples of endemic category brands in the eSports sponsorship space. Non-endemic category brands are not integral to the activity itself, but appeal to gamers and spectators that identify with researched demographics. These brand categories include snacks, energy drinks, sportswear, grooming supplies, mobile phones, and even auto insurance.
According to IEG research, consumer electronics brands are most likely to pursue eSports sponsorships, followed by IT software, apparel, and office furniture.
I don't know much about this space. What can I do to break in?
You're not alone; eSports corporate sponsorships are relatively new. But they won't be for long. Amateur gamers are starting to play professionally, and as their profiles rise and their names become known, brands attached to those names experience corresponding growth that's catching even the most optimistic endorsers by surprise.
At the moment, opportunities are wide open, but pathways to the highest revenue generators are narrowing rapidly. For help negotiating and documenting eSports sponsorship deals as they begin a steep climb in value, contact our team! We'll help you understand the terms and assist you with optimizing your eSports sponsorship opportunities.