The current conflict between Writers Guild of America (WGA) members and their agents, represented by the Association of Talent Agents (ATA), exposes tensions that have been simmering for a long time.
According to the WGA (and many individual writers), writers have traditionally been under served by the nature of the relationship, since agents have been incentivized to focus more attention on higher profile clients, and since packaging fees represent an arrangement between agents and producers that typically undervalues writer contributions to the enterprise. As with almost all labor disagreements that lead to strikes and walk-offs, the relationship between one party and another, though imperfect, is still mutually beneficial—even essential—until the day it isn't.
Now that talks have fallen apart into mutual recriminations and the WGA filed a lawsuit against the Big Four talent agencies last week, what will happen to what's left of that traditional relationship? How will writers and agents co-exist, and if the industry fundamentally transforms as a result of the rift, what will the new status quo look like, and how will it work?
In other words: How will writers connect with production companies and find work if agents aren't there to help them? And how will agents serve writers/producers and earn their bread and butter?
Here are a few things to keep in mind if you're a writer, specifically a member of the WGA: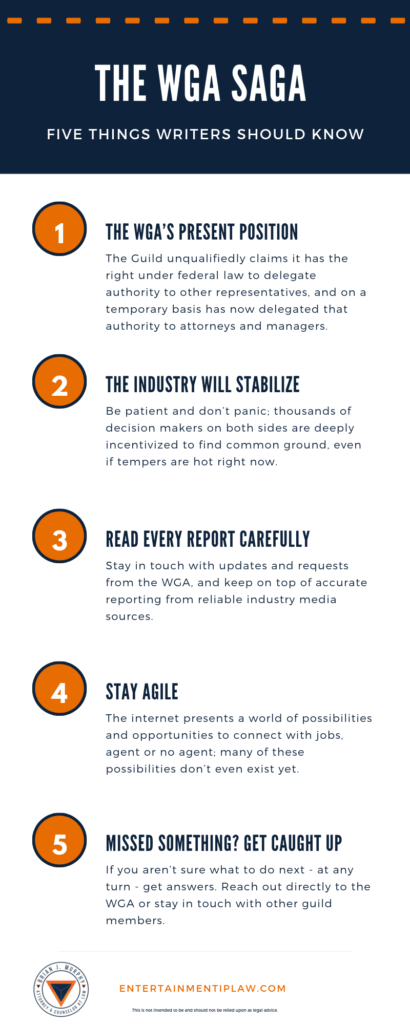 The WGA's Present Position The WGA has informed its members that (i) the new Code of Conduct does not prevent any deal that is in the process of being made from being completed, but not by an agency that is no longer franchised, even if they have already started the negotiation, and (ii) completion of the deal can be handled by a lawyer, manager, or franchised agent. The Guild unqualifiedly claims it has the right under federal law to delegate authority to other representatives, and on a temporary basis has now delegated that authority to attorneys and managers.
The industry will stabilize…in time. If you can, find alternative routes to jobs and keep writing; stay the course. While the future of your career may look uncertain right now, writers will always be in demand. And eventually, the dust will settle and a new writer-agent relationship model will arise. Be patient and don't panic; thousands of decision makers on both sides are deeply incentivized to find common ground, even if tempers are hot right now.
Read every report carefully. News changes fast, and if you're a guild member, every twist and turn may impact you personally. Stay in touch with updates and requests from the WGA, and keep on top of accurate reporting from reliable industry media sources.
Stay agile. Just as news travels fast, evolutions happen rapidly in industry models. The internet presents a world of possibilities and opportunities to connect with jobs, agent or no agent; many of these possibilities don't even exist yet. Keep your eyes open and stay flexible.
Missed something? Get caught up. When you miss a class, you can borrow your classmate's notes so you don't fall behind. The same applies to fast-paced and chaotic labor negotiations. If you aren't sure what to do next – at any turn – get answers. Reach out directly to the WGA or stay in touch with other guild members.
Lastly, and perhaps most importantly, don't put your career on hold waiting for the future of writer-agency relationships to be resolved. If you need assistance or legal advice, contact us!
Disclaimer: No part of our blogs, website content, or social media posts should be considered official legal advice. Contact us directly to discuss your specific circumstances.